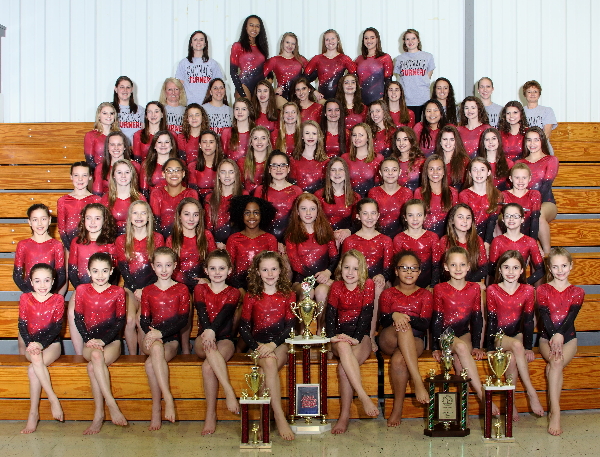 2016-2017 Team
* * * * * * * * * * * * TEAM MEMBER SECTION - UPCOMING NEWS AND IMPORTANT EVENTS * * * * * * * * * * * *
---
,
Pre-Registration for the Spring Session will be held from December 4th thru December 9th. New forms are not needed at this time but we still need you to verify the current information that we have on file. Just an FYI - prices have increased this session. The total due for the Spring session will be $357 which includes MT dues of $27. Please keep in mind, if your bill is not paid before the first class in January - your child will not be permitted to practice. Tuition can also be paid thru Pay Pal below. For any questions about tuition, please see Coach Cherie.
---
Just an FYI - we are planning to have an Intra-Squad meet with Youth & Jr. High on Friday December 8th. This is meet will be run by Hannah Magusiak & Mira McNary for their senior project. More details will be coming out soon.
---
The Christmas Team Hayride will be held on December 9th at Clinton Park. The wagons will leave at 6:30pm promptly. Please arrive at Clinton Park by 6:15pm at the latest. Sign up sheets for this event are located above the team mailboxes. Don't forget to take a gate pass - otherwise, you will be responsible to pay the $10/car entrance fee into the park. After the hayride and for those interested, we plan to go to Eat'n Park in Moon for Dinner/Desserts. This is a great team bonding event, and we hope to see you all there!
---
The next booster club meeting will be held on Thursday, November 16th at 6:15pm. This meeting will be held in the banquet hall if available. For any questions please see one of the coaches.
---
BAKE SALE:
The next bake sale will be held on November 10th at 4:30pm, on the banquet side of the club. All Baked items can be brought to the gym on Thursday, November 9th. If you need to bring baked items in on Friday, please take items directly over to the banquet hall side of the club. Make sure your gymnasts name is marked clearly on your baked item - we want to make sure everyone who participates earns their point. For any questions please see one of the coaches.
---
FUNDRASIERS:
We are currently running a Resilite Holiday Equipment Fundraiser. Order forms can be found hanging in the lobby of the gym. All orders must be turned in by December 1st, in order to receive shipment by Christmas. For any questions about this fundraiser, please see one of the coaches.
Anderson Candy - We still have a few bags of candy still left! Each candy bar is $1 and each bag contains a mix of 30 chocolate bars. All candy taken must be paid for upfront($30/bag). We will continue this sale until all candy is gone.
Spaghetti Dinner - The annual MT Spaghetti Dinner will be held on December 3rd this year. All tickets/Money should have been turned in by now. Please make sure you remember to bring a dessert to cover the amount of tickets you have sold. Sign up sheets for this event can be found above the team mailboxes. Also, we are still looking for donated items - to be auctioned off at the Spaghetti Dinner. If you have any items to be donated please drop them off at the gym no later than Wednesday.
For any questions about any of our fundraisers you can always contact Jaime Misselwitz or any of the coaches.
---
CREDIT CARDS:
We are now accepting credit cards for all our gymnastic expenses thru Pay Pal. You do not need to have a Pay Pal account in order to use the credit card payment system but will be responsible for all fee's associated with it. All fees are included in the price of each item listed in the drop down box. If you currently have a Pay Pal account, Monaca Turners fees can be transferred directly into our account without any additional charges. This can be done in PayPal by going into the Tools Button. Select send Money - to family & friends. Send funds to the following email address: Mttreasurer20@gmail.com For any questions, please contact Amy Zurynski or Cherie Mulford.
---