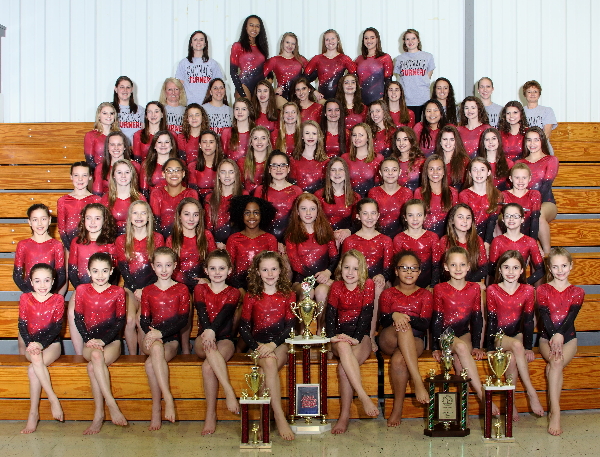 2016-2017 Team
* * * * * * * * * * * * TEAM MEMBER SECTION - UPCOMING NEWS AND IMPORTANT EVENTS * * * * * * * * * * * *
---
REGISTRATION:
For those who have not paid their tuition for the Summer Session please do so ASAP! Due to the large amount of unpaid bills from the Fall/Spring Sessions, no one will not be permitted to practice until full summer tuition is paid. Now that the club excepts credit cards, they feel there is no reason why tuition can not be paid a head of time and unfortunately they are now enforcing. So come Monday May 15th - any team member that walks thru the door for practice that does not have tuition paid will be sent home. So please lets take care of this. I will be at the gym this Tuesday(5-2) and Thursday(5-4) from 6-8 during open gym and will except tuition payments at that time. Otherwise tuition will need to be paid during Regular Registration on May 9th and 10th from 6:30pm - 8pm. During regular registration you will not have to wait in lines like all the new people do. Just walk in and go to the payment table where Sandy and myself will be sitting. The total amount due for the Spring Session will be $240 and now can be paid by credit card, cash, or check. If you have any other questions please let me know. Thanks.
Coach Cherie
---
SUMMER SCHEDULE:
Just a reminder that the summer class schedule will be changing the week of June 5th. At that time, all classes will be held on Monday thru Thursday only. Those that currently have classes on Friday, please check the schedule below to see where in the day they have been moved to.
Classes during the Summer Session that will be cancelled are the following:
Memorial Day
July 4th
Classes will also be cancelled the week of June 10th. All the Coaches will be going to camp Woodward.
Click
here
for the Summer Session Schedule
---
The next booster club meeting is scheduled for Tuesday - June 6, 2017 at 6:15pm. This meeting will be held in the banquet hall if it is available.
---
BAKE SALE:
We will not be holding any Bake Sales during the summer months. Bake Sales will start back up in September. Please check back to this website closer to September for exact dates and times.
---