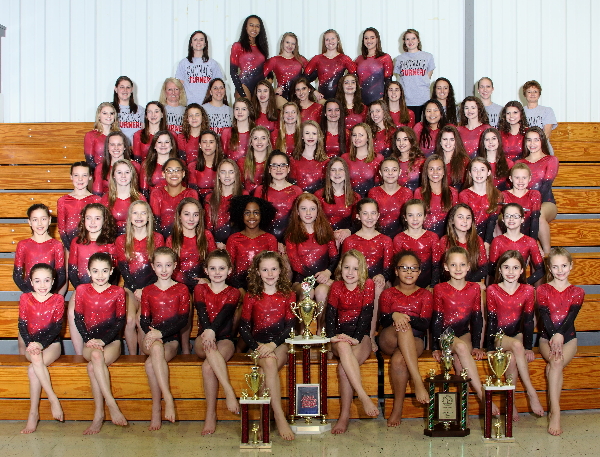 2016-2017 Team
* * * * * * * * * * * * TEAM MEMBER SECTION - UPCOMING NEWS AND IMPORTANT EVENTS * * * * * * * * * * * *
---
,
Pre-Registration for the Spring Session is now over. If you have not Registered for the Spring session, please do so ASAP! The total due for the Spring session will be $357 which includes MT dues of $27. Please keep in mind, if your bill is not paid before the first class in January - your child will not be permitted to practice. For any questions about tuition, please see Coach Cherie.
---
The next booster club meeting will be held on Thursday, January 22nd at 6:15pm. This meeting will be held in the banquet hall if available. Please come and earn a point. For any questions, please see one of the coaches.
---
BAKE SALE:
The next bake sale will be held on January 12th at 4:30pm, on the banquet side of the club. All Baked items can be brought to the gym on Thursday, January 11th. If you need to bring baked items in on Friday, please take items directly over to the banquet hall side of the club. Make sure your gymnasts name is marked clearly on your baked item - we want to make sure everyone who participates earns their point. For any questions please see one of the coaches.
---
FUNDRASIERS:
Currently we do not have any fundraisers set up yet for the month of January - Please check back to this website for updates.
---
CREDIT CARDS:
We are now accepting credit cards for all our gymnastic expenses thru Pay Pal. You do not need to have a Pay Pal account in order to use the credit card payment system but will be responsible for all fee's associated with it. All fees are included in the price of each item listed in the drop down box. If you currently have a Pay Pal account, Monaca Turners fees can be transferred directly into our account without any additional charges. This can be done in PayPal by going into the Tools Button. Select send Money - to family & friends. Send funds to the following email address: Mttreasurer20@gmail.com For any questions, please contact Amy Zurynski or Cherie Mulford.
---