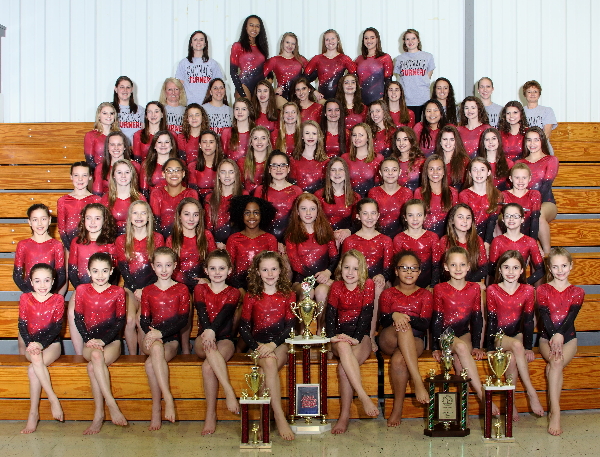 2016-2017 Team
* * * * * * * * * * * * TEAM MEMBER SECTION - UPCOMING NEWS AND IMPORTANT EVENTS * * * * * * * * * * * *
---
Registration:
Registration for the Fall session is now over. If you have not signed your Registration form and paid your tuition - it MUST be done at the first practice that your child attends. If not, your child will not be permitted to participate in class. Fall tuition is $350.00 and can be paid by Credit Card, Cash, or Check. If you have any questions/concerns please see one of the coaches.
---
The next booster club meeting will be held on Tuesday, October 10th at 6:15pm. This meeting will be held in the banquet hall if available. For any questions please see one of the coaches.
---
New Team Parent Orientation:
For all our new team parents, we will be holding an orientation meeting on September 19th at 6:30pm. At this meeting we will go over a lot of information, so if possible please attend. We will talk about what to expect for this upcoming season and answer any questions. If you can't attend please Contact Coach Terri.
---
All HS Gymnasts:
For those that are competing on our HS Teams, we will be having our HS Informational Meeting on October 4th at 6:30pm. For those that are moving into HS it would be a good idea to attend. If you have any questions - please see one of the coaches.
---
BAKE SALE:
The next bake sale will be held on October 13th at 4:30pm, on the banquet side of the club. All Baked items can be brought to the gym on Thursday, October 12th. If you need to bring baked items in on Friday, please take items directly over to the banquet hall side of the club. Make sure your gymnasts name is marked clearly on your baked item - we want to make sure everyone who participates earns their point. For any questions please see one of the coaches.
---
FUNDRASIERS:
Anderson Candy - Starting on September 18th, we will be selling Anderson Candy. Each candy bar is $1 and each bag contains a mix of 30 chocolate bars. All candy taken must be paid for upfront($30/bag). We will continue this sale until all candy is gone.
Tambellini's Gourmet Foods Sale - Brochures have been placed in all team members mail boxes. All orders/payments are due on Thursday, September 28. Orders will be ready for pick up after team practice on October 12th.
Spaghetti Dinner - The annual MT Spaghetti Dinner will be held on December 3rd this year. Please save the date. More information will be coming out in the next month or so. Please check back to this website for updates.
For any questions about any of our fundraisers you can always contact Jaime Misselwitz or any of the coaches.
---